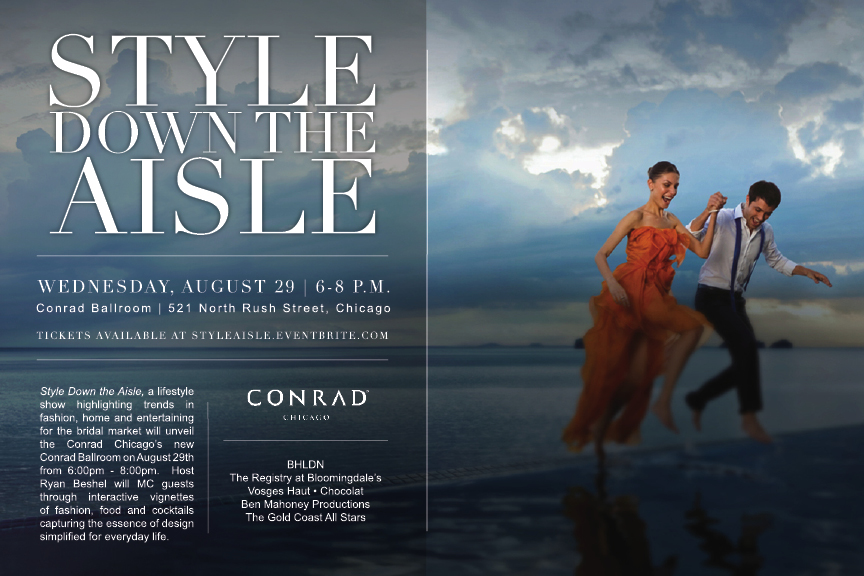 Photo courtesy of Style Down the Aisle
Ready for a bridal event that takes you beyond the big day? Despite a name that might suggest otherwise, on Wednesday, August 29, Style Down the Aisle 2012 will focus on what happens after the momentous march. Celebrating its second year in Chicago, the event offers a unique spin on a bridal show, offering 3-D visual vignettes featuring home decor, florals, fashion, and entertaining tips.
"We wanted to put a little twist on your typical bridal show by making it more about the couple and their actual lifestyle," says Jenna Wolke of Oak Street Design, one of Chicago's leading design firms and the sponsor responsible for curating and product each aspect of the event. "Our goal is to bring together the best industry professionals Chicago has to offer, to educate, inform and inspire.  Hopefully guests will walk away with new information they can use in their lives, whether they're getting married, planning an event, or reporting back on industry trends."
And the best industry professionals they did unite! In conjunction with the Conrad Chicago hotel, Style Down the Aisle 2012 will be housed in its newly-launched Conrad Ballroom, as the first large event in the space. From 6 p.m. to 8 p.m., host Ryan Beshel, PR coordinator for the 900 North Michigan Shops and all-around man about town, will emcee guests through interactive vignettes of fashion, food and cocktails capturing the essence of design simplified for everyday life.

Photo courtesy of Style Down the Aisle
Last year's event included a full runway and fashion show of 33 wardrobe looks that took the couple through the entire wedding journey, from the engagement party to the morning after brunch, as well as a short film profiling the love story of characters "Sophie" and "Leo." This year, the couple will be on site sporting ensembles from BHLDN and Sebastian Grey Clothiers, as other models mingle through the crowd showcasing fashions.
As for the rest of the evening's line-up, keep an eye out for:
Tickets are on sale for $15 and can be purchased at styleaisle.eventbrite.com. Just be sure to snag one up to an hour before the event begins–no tickets will be sold at the door!